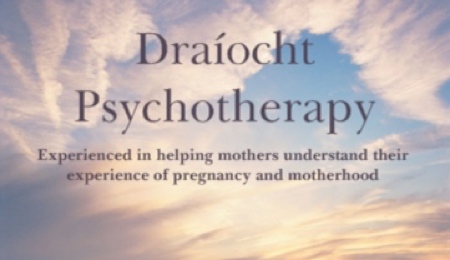 Draíocht Psychotherapy is a psychotherapy clinic located on the Old Dublin Road in Stillorgan offering support and psychotherapy surrounding pregnancy and childbirth.
The clinic has qualified and accredited pscyhotherapists experienced in helping mothers understand their experience of pregnancy and motherhood. Therapists at Draíocht Psychotherapy specialise in women's mental health and working with pregnancy and pre/post natal depression. Therapists are also experienced in working with a range of mental health diagnoses.
Fees can vary depending on the arrangement with the initial meeting free of charge.
ADDRESS : 5 Old Dublin Road, Stillorgan,Co Dublin
WEBSITE : www.draiochtpsychotherapy.ie
CONTACT : Paula 085 8230969 or Jenny 087 9084425
Disclaimer
All of the content and articles on our blog and website are intended for informational purposes only. Please do not consider any of the information provided here as a substitute for medical advice. At all times seek medical advice directly with your own doctor and medical team.